Naples food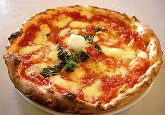 Naples is by tradition the home of pizza. It is the birthplace of the Pizza Margherita, which traditionally is made with mozzarella cheese, pomodoro (tomato) and basil -representing, respectively, the red, white, and green of the Italian flag. The pizza was named when it was served to Queen Margherita during a visit to the city. La vera pizza ("true pizza") is made in a wood-burning oven similar to a Tandoori oven. There is a certification body that issues recognition to pizza places around the world that have been deemed to make true Neapolitan pizza.
Melanzane alla parmigiana is a bake of layers of fried slices of eggplant (aubergine, very often coated in egg and flour, or in a light batter), alternated with mozzarella, tomato sauce and parmesan (parmigiano) cheese (a less common version does not include mozzarella).
Naples offers several kinds of unique pastry, the most famous of which is perhaps the babà, followed by choux (Neapolitans write it as sciù) and the Pastiera, a cake prepared for Easter. The babà (also known as savarin) is a mushroom-shaped piece of leavend sweet pastry, soaked with an orange flavoured mixture of ruhm and water. Choux is a small "bubble" of leavened pastry stuffed with light cream, usually coffee or chocolate flavored. The Pastiera is a cake with a complicated recipe, varying by the county in which it is prepared. The ingredients are typically annealed grain, eggs, and sometimes cream (it is sometimes made with boiled rice instead of grain in the area of Salerno), in a sort of short crust pastry with strips of pastry on the top making a sort of grid. Another typical Neapolitan pastry is the Sfogliatella (riccia or frolla).
Naples is also known for its ice cream (in Italian gelato).
Neapolitan food forms the basis for much Italian-American cuisine.

.